Home » Software & Kabels » Butel scanner software Icom IC-R20
Butel scanner software Icom IC-R20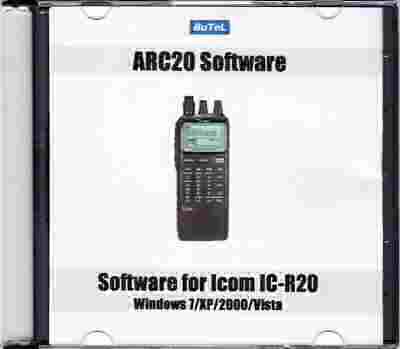 Productomschrijving Butel scanner software Icom IC-R20
Butel scanner software Icom IC-R20
Algemene kenmerken
PC Programming Software for the ICOM type IC-R20.
Program frequencies in a friendly and versatile spreadsheet type interfacte.
Easy user Interface.
Easy data import / export.
Windwos 2000 / XP / Vista / 7
Opties voor ARC20 FOR IC-R20 RECEIVER:
ARC20 supports the Icom IC-R20 receiver
ARC20 includes the most versatile memory editor available on the market including cut/copy/paste options!
ARC20 includes a user friendly browser that makes navigating the software a breeze
ARC20 is programming software only. ARC20 does NOT support audio file transfer/conversion nor does it control the Icom IC-R20.
Radioreference.com* import option for conventional! Programming your receiver was never this easy!
Print option
Paste Frequencies directly from any website using Paste Special
Setup channels in an easy, spreadsheet type interface.
Store unlimited number of configurations on your harddisc.
Windows 2000 / XP / Vista / 7 compatible
All updates are free for registered users
Copy/Move/Swap banks
Move channels up and down
Import/Export CSV data
Import data from CS-R20 cloning software
Fill down/series option
Full clipboard support for import/export data to/from other applications
Enhanced sorting options
Remove duplicates / Find duplicates overview
Inhoud verpakking
Bestel veilig en snel Butel scanner software Icom IC-R20 op Radioamateurwinkel.nl!